Parts & Service
Along with the highest quality trailers, used trucks, and truck beds, Jarco Truck and Trailer Sales doesn't stop there!
Customers will find that with our trailers, we also provide an inventory full of trailer parts, accessories, and an experienced full-service team to take care of all your trailer modifications, repairs, and any other trailer or truck bed needs!
In West Virginia, our team of trailer experts is knowledgeable when it comes to the finest alterations or additions to your trailer or truck bed.
Jarco Truck and Trailer Sales makes sure our parts and service department is fully stocked to accommodate all your trailer needs. That's right, anything you're looking for that modifies a trailer, come to us and we will have it! If we don't, we can order it for you.
We take pride in fulfilling all your trailer and truck bed needs. From assisting you in locating one of our trailers or truck beds, finding parts and accessories for your trailer, all the way to the service and repairs that are needed to maintain them.
The following are just a few of the services Jarco provides:
Trailer and Truck Bed repairs
Installation of truck beds
Trailer maintenance or modifications
At Jarco, we want to give our customers service that is beyond compare. With our quality trailers and truck beds, endless parts inventory, and expert repair center we feel sure that we will be able to meet all your expectations and goals!
Below are some of the parts available at Jarco:
Lights
Axles
Tire and Wheels
Jacks
Tie downs
Couplers
D-Rings
E-Tracks
And more!
---
RANCH HAND LEGEND GRILLE GUARD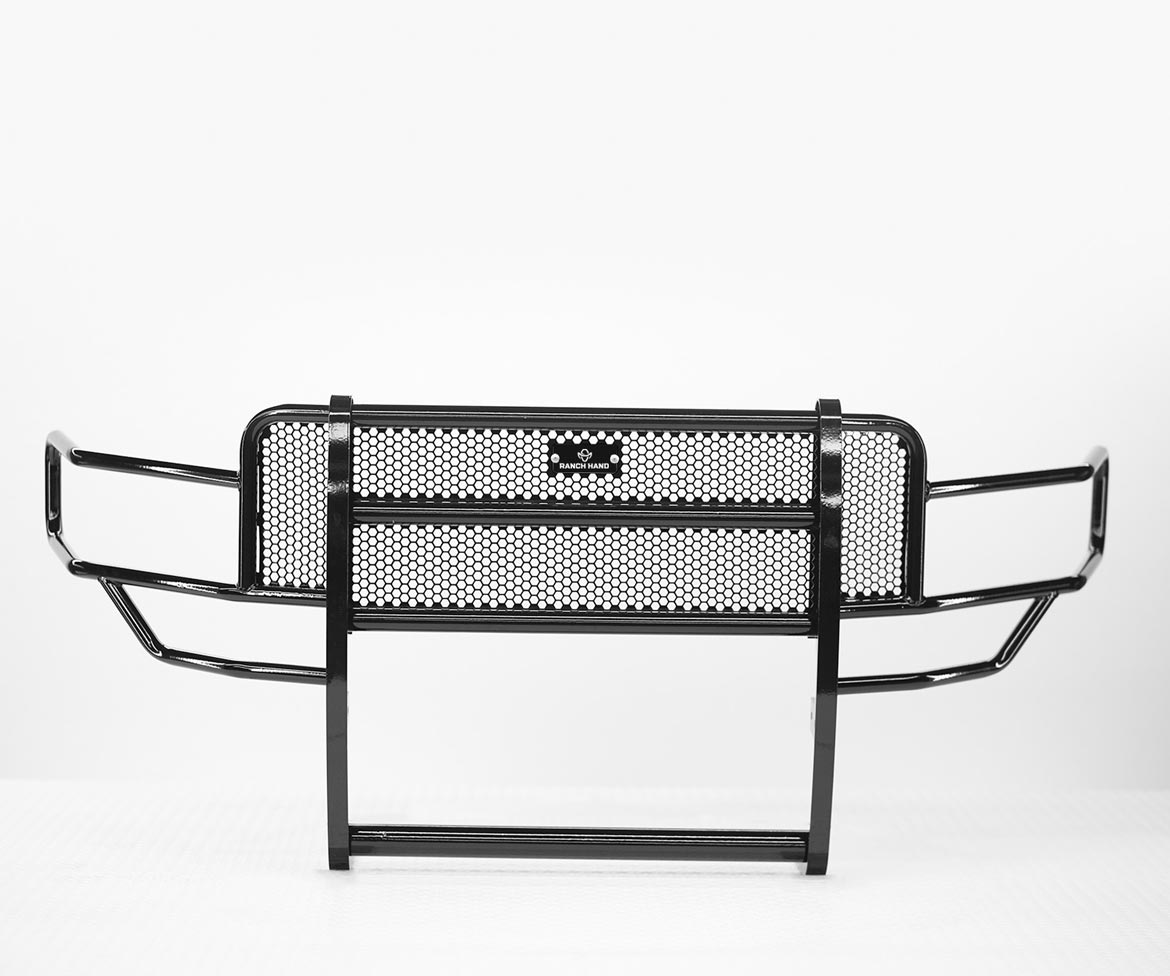 The Ranch Hand Legend Grille Guard is the original icon of the vehicle protection industry. Providing outstanding protection, the Legend Grille Guard is one fully welded piece of steel that is mounted to your truck or SUV's frame in four locations providing maximum strength and eliminating vibration. Ranch Hand's grille inserts are punched specifically to match your OEM truck/SUV grille pattern. Built for various trucks and several SUVs, a vehicle should not be on the road without this valuable yet affordable protector leading the way.
---
FRONT BUMPERS
GRILLE GUARD
A front bumper with a Grille Guard provides the most protective coverage for your vehicle's grille and headlights as this product combine the traditional front bumper replacement and grille guard.

BULLNOSE
A front bumper with a steel body paired with the bullnose pipe creates a solid center point of defense. The bullnose front bumper is designed for and easily accessorized with off-road lights.
SMOOTH STEEL
Smooth steel front bumpers boast sleek lines, LED lights, smooth metal construction, and offer an optional bull bar to enhance front-end protection.

WINCH-READY
Ranch Hand created winch-ready front bumpers to do some hard work. Able to accommodate up to a 16,500 lb Warn winch, winch bumpers are built from a ¼" formed channel and offer a 2" receiver.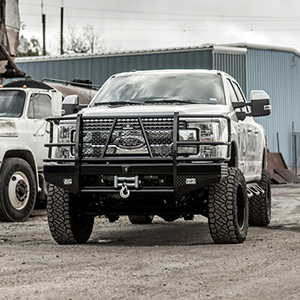 ---
RANCH HAND BACK BUMPERS
LEGEND

/ BACK BUMPER

3/4+ ton trucks
Diamond-plate + 4" schedule 40 pipe
No built-in step
Factory lights retained
Bolt-on receiver option available
LED lights are standard on most models
Black powder coat
Made in America

SPORT

/ BACK BUMPER

1/2+ ton trucks
Diamond-plate + 3/16" formed channel
Built-in step (most)
Factory lights retained
Factory receiver retained
LED lights come standard
Black powder coat
Made in America

HORIZON

/ BACK BUMPER

1/2+ ton trucks
7 gauge smooth steel
Built-in step (lit with LEDs)
Factory lights not retained
Factory receiver retained
LED lights (cubes, spot, and flood)
Matte black
Made in America
---
RANCH HAND RUNNING STEPS
Ranch Hand Running Steps offer the same strength and resilience as Ranch Hand's front and back protection. Offered in 4 steps or 6 steps, our running steps are built from the same high-quality materials as the rest of our products. The unique punched plate pattern on the step, which matches the grille pattern of the truck brand, allows dirt to fall through to avoid mud build-up on the top of the step.
---
Our company offers the best trailers and parts at the most affordable prices around!
Jarco's knowledgeable, skilled service department makes sure that your trailer is in, out, and back on the road in no time.
REMEMBER, if Jarco doesn't have what you are looking for, we will find it and order it for your convenience.
Continuously serving you long after the sale, Jarco Truck, and Trailer Sales will have all that you need when it comes to trailers, truck beds, and more.
Our store hours are Mon-Fri: 8 am-6 pm and Saturday 8 am-1 pm.
So contact us today at 800.498.0163 or stop by and see us today.